"In the heart of Malvasia"
21/03/2019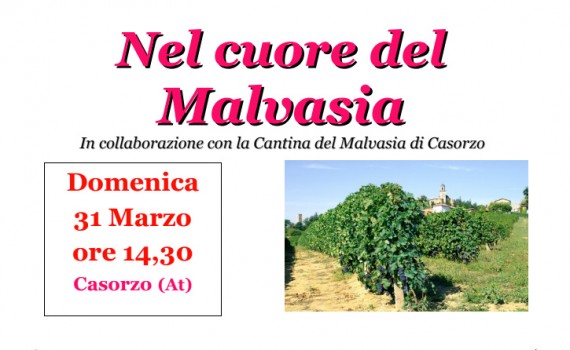 March, 31st - walk in the country from our winery
h. 1.30 pm meeting in Via San Lodovico 1, in front of the Cantina del Malvasia, in Casorzo
h. 2,30 pm start of the walk
Round trek, about 9 km long, among the marvellous hills in Monferrato, Unesco World Heritage, on trails or low mileage routes.
Trekking shoes are recommended.
Expected return hour is 5.30 pm.
At the end of the walk the Cantina del Malvasia di Casorzo will offer refreshment and malvasia tastings.
The participation at the events organized by "Camminare lentamente'" is reserved to members only.
Annual membership card: 8€ - free for under 18s.
Walk cost for members: 3€
Info and booking (before march 30th): 3806835571 - 3497210715
camminarelentamente2@gmail.com, www.camminarelentamente.it
Scarica il volantino